What People Say About KELY
Our Programmes and Services
Drama and Life Skills Programme
"The creative process, warm-up games got us from being nervous to being very comfortable with each other and rely on each other. We had never written scripts before in our school. I was nervous in the past but the rehearsal and performance gave us a chance to act on stage which gave me confidence."
Student participant, 14 years old
"I have gained insight into why people really take drugs. I used to think they are just doing it to look cool and have fun but now I know that they face pressure and they have a lot of personal issues." 
Student participant, 15 years old
Drama-based Drug Prevention Programme
"This programme helps me to be more confident in front of my classmates and speak up in class."
Student participant
"I learnt more about drugs and also to be more confident in standing up for myself when I'm in a situation similar to the play."
Student participant
Drug and Alcohol Awareness Workshops
"The activities got us thinking and kept me interested; I would recommend this workshop to my friends (because) I think it could help a lot of people and it was a good experience."
Student participant, 15 years old
"The interactive activity got me more engaged and I could actually practice the NICE resistance techniques. It's very informative and engaging so you can actually learn something."
Student participant, 15 years old
ExCEL!
"I am more confident to give ideas in the programme. Before I used to get nervous about what if people don't like it or aren't interested. Now I think you should just give what you know even though they might not be interested, you should say out what you have."
"I think I now know the drug effect briefly and how they affect people. Really glad we got to organise fun and educational activities."
"I learnt about the risks of drugs, felt confident of what we learnt and shared with others by producing a music video. I actually have the ability to influence others."
From 3 student participants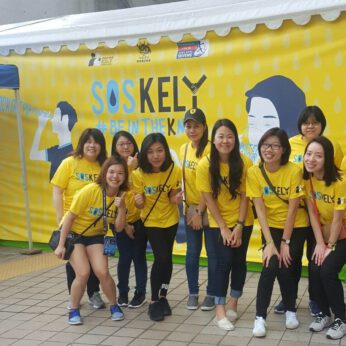 SOSKELY harm reduction outreach
"It's amazing to support SOSKELY. I think young people feel comfortable talking to us because we have a non-judgmental approach."

SOSKELY volunteer
"I found it safe here at the SOSKELY tent. The team offered lots of help when I needed the support."
Youth, 22 years old
"SOSKELY helped me and my friends 4 years ago when we were in high school. So grateful to see this still going strong today! Thank you for your service!"
Youth, 21 years old
Get Positive!
"Juggling is a way for me to relieve stress. I bring my Diablo set (a type of juggling equipment) everywhere I go. I am not afraid to play it in the crowd. I am glad that I found my way to manage my stress through the programme."
Student participant
"As a team player, I learnt to speak up more, provide more assistance, and not to rely on the leader to decide everything."
Student participant
"We are delighted that this programme can provide students with a multi-faceted school life and a learning platform outside academic lessons. Through learning new skills, students can build their confidence and resilience, as well as learn to listen to instructions and get along with others."
Teacher from Kwun Tong Government Secondary School
Moody's RiseUp
"I hope that if my photographs hold up as 'mirrors' to people, where they see their own stress and pressure reflected in them, they can be inspired to put their stress aside and enjoy life."
"The photos I have chosen reflect some of my feelings deep inside that I seldom express."
"Through this programme I've learnt more about myself and I notice things a lot more than before. I never used to think about where I come from but now I am really intrigued. I realise there's so much I didn't know about myself."
From 3 student participants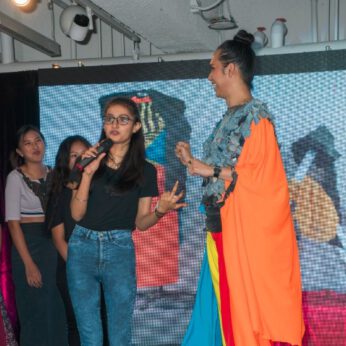 Seeing the Possibilities
"Watching the students develop over the programme has been an incredible journey. The KELY module of sustainable fashion really made each participant think about how they were consuming and helped them to realise the roles they would play in shaping not just their own futures but also the futures of their peers, family and friends. Giving students this creative opportunity empowered their thinking and actions and would set them up with valuable life skills forever!"
Fashion design trainer
"I'm proud of our enthusiasm as a group and the ideas that we have developed, our outfit is a reflection of making bold choices and embodying something you want to be but can't. "

Student participant
Talk2Me
"I can share things that I am thankful for during the programme. I am able to express my heart."
"I am able to do roleplays and practice the skills I've learnt during the session."
"I learnt how to support my peers. The skills taught in the programme are effective and I am able to use it in daily life."

From 3 student participants
Growing Up With KELY
"Procrastination is a hot issue to discuss and a majority of teenagers don't know how to deal with it. It's so educational and meaningful to them."
Form 2 Teacher  
"Because KELY Support Group is fun and helps us understand the real world."
Student participant, 13 years old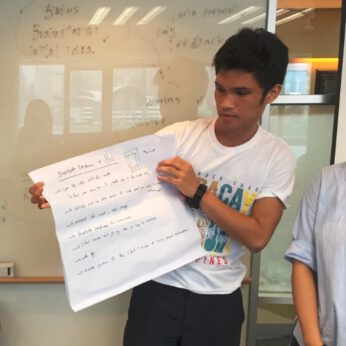 Open Door Work Placement Programme
"It was a productive summer for me due to KELY Support Group's work placement programme. I was able to develop new skills, get professional advices from employers and expand my network."
Youth intern
"The work placement was very useful as you get to learn quite a lot of new skills and the most important thing would be being able to experience a real work environment so that I can adapt more efficiently in the future."
Youth intern
Advocacy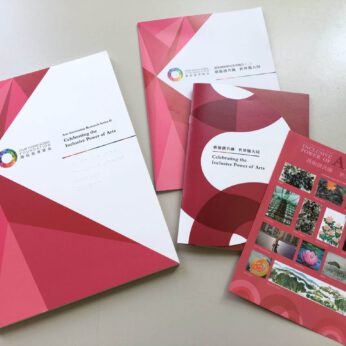 Our Hong Kong Foundation research: Celebrating the Inclusive Power of Arts
(Excerpts)
Theme 2 Social Cohesion
Sub Teme 2.3

Using arts as a means for communication: fostering intercultural exchange
Social cohesion also manifests in the promotion of intercultural contact. A relevant example would be the focus group we conducted with EM students, who had undertaken drama. Most relevantly, they shared that drama had made them more sensitive to the feelings of others, and had taught them how to communicate. Most importantly, drama trained them up to venture outside of their (English-speaking) comfort zones, and  facilitated their mingling with local classmates.
It's easier to start talking to (local) boys first because they care less about the details. Once we get acquainted with local boys, it makes it easier to approach local girls, and everyone else.

Participant A, KELY Support Group
Drama has also been the efective methods of communication when the language discrepancy gets in the way. An EM participant identifed that the language barrier was the main wall between locals and non-locals getting to know each other. Where such occasions arise, drama is a very good way to go around it. 
________________________________________
Theme 3 Community Empowerment and Self-Determination
Sub Theme 3.2
Community empowerment through self –expression
The empowerment of a community is not confined within the parameters of geography, but can stretch across physical and conceptual boundaries. Two students of ethnic minority backgrounds who participated in a photography programme indicated that they found empowerment in photography as it gave them the opportunity to express their own thoughts and deliberations, which would otherwise be scarce for non-Chinese locals such as themselves.

Instead of using words, our thoughts and our opinions on how we see the world and society can be shown through our artwork.

Participant B, KELY Support Group
With photography, they are given the access to voice their own opinions which come as a form of empowerment for the EM community. One EM student went further to note that there was usually a difference between the artwork of non-Chinese and Chinese students. She observed that the photographic artworks by local Chinese usually captured still objects or elements that were very emblematic of the 'Hong Kong' culture – such as yum cha musings or the Hong Kong skyline – whereas the photographs by non-Chinese students were usually cathartic expressions that often conveyed implicit meanings and tones.

You'd know which work was created by non-Chinese students… as non-Chinese people, our pictures express something deep… because for us, we don't have a lot of opportunities to express ourselves, and we really take advantage of it and express all of our feelings through photography.
Participant C, KELY Support Group

As evidenced, therefore, the self-expressive mechanism in photography is a catalyst conducive to the empowerment of the community of EM students, which could potentially increase their level of self-confidence, enlarge their social circles, and prompt them to be more courageous when meeting new people.

________________________________________

Benefit 6: Benefit in Health & Well-being
Using arts interventions to prevent youths from falling into high-risk behaviour, derived from conversations with KELY Support Group & Caritas Charrette Centre.
Insight from KELY Support Group: The Executive Director of KELY Support Group indicated that arts might be employed to detect any early-stage frustration of 'at-risk' youths. Consequently, they could introduce measures of controlled stability to protect their mental health early on and prevent them from developing high-risk behaviours. It is suggested that these frustration can be unlocked or dissolved through the process of catharsis. The rewarding experience of EM students to express themselves through the medium of photography via the RISE and Moody's RiseUp programmes are good examples.